32 Poems Discusses Mary Oliver's "Singapore"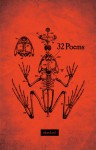 Julie Brooks-Barbour participated in a discussion on the 32 Poems Facebook page about favorite poems. This developed into a brief essay about Mary Oliver's "Singapore" posted on the 32 Poems blog. Here's an excerpt.
"Though the title is important in defining place and how we, as readers, might visualize the woman in the poem, I think that is where its significance ends. Since the woman we meet through the speaker never utters a word, acting as a silent movie character, she could very well be any woman cleaning any airport anywhere in the world. What is most significant is the way in which the speaker argues against how the larger culture has taught her to treat a janitor or anyone working a job that would make her cringe, and how she accepts this woman as part of the world, as a human among humans, in the only way she knows how: through a poem." Read the rest.
Praise
"One of the astonishing aspects of Oliver's work is the consistency of tone over this long period [of her career]. What changes is an increased focus on nature and an increased precision with language that has made her one of our very best poets . . . There is no complaint in Ms. Oliver's poetry, no whining, but neither is there the sense that life is in any way easy . . . These poems sustain us rather than divert us. Although few poets have fewer human beings in their poems than Mary Oliver, it is ironic that few poets also go so far to help us forward."
—Stephen Dobyns, New York Times Book Review